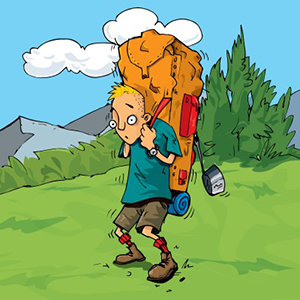 Each time I launched one sore foot in front of the other, I felt the straps on my backpack digging deeper into my shoulders. It was as if the weight of my pack was trying to pull me backward, undoing all the strenuous work that I'd done to make my way down that dusty desert trail.
Attempting to make light of the situation, I joked with my friend about how my pack felt like some sort of medieval torture device. After slogging along for two more hours, we finally arrived back at the trailhead parking lot and I immediately un-clipped the hip belt and sternum strap on my pack and with a sigh of both relief and disdain I lowered it to the dirt. Without the 45 pound pack on, my body felt so light that I nearly expected to start floating an inch or two off the ground.
On the drive home I started reflecting on my backpacking experience from that weekend. I was disheartened at how much effort it took to travel just a handful of miles and how I was unable to fully enjoy those miles because of the constant burden that was on my back.
"What gives?" I thought. I had purchased decent enough gear, including a backpack that essentially promised to take large, heavy loads, and to transform them into fluffy piles of feathers with its state of the art suspension system and plush padding.
Yet instinctively, I knew that this was largely a marketing gimmick. After all, a pound on your back is still a pound on your back, no matter how you package it – you aren't fooling your body. While it's certainly true that having a well designed suspension system and plush padding on a backpack can make it feel like each pound is a little less burdensome, the fact remains that there's no substitute for carefully managing the number of pounds and ounces that one carries into the backcountry in the first place.
This truth resonated with me and I instantly started thinking of ways that I could start shaving weight from my pack. I thought of four or five items that I had brought with me on that trip that I never really used or could see myself using and I vowed not to take them with me again. I then compiled a mental list of some of the heaviest pieces of gear that I had and started thinking of more suitable lightweight replacements.
After flooding eBay with most of my old gear, I set out on a quest for the perfect backpacking setup – a quest that I'm still on today, and will likely be on for the rest of my life. The cycle of selling my old gear and buying new gear was at a frenzy pace for well over a year, and after trying three different backpacks, three different tents, four different sleeping bags, and seven different sleeping pads, I've finally arrived at a setup that I'm content with – for now.
The truth is, I absolutely love the hunt for newer and better gear. As I try to do in life itself, I'm always seeking to improve my gear list in areas where I'm not confident that it's the best that it can be.
The 45 pound "medieval torture device" that I had started out carrying was transformed into a 35 pound sack of "Hey, I think I can hike for a few extra hours this time!". Surely enough, that 35 pound pack has now been strategically condensed down to 24 pounds (including food and water) of "Alright! I think I'm gonna go chase after that mountain goat!"
Backpacking is now an entirely different activity than it was when I was carrying 45 or even 35 pounds, and I can't fully express just how much more enjoyable it is. I strongly encourage you to take a look at your own gear list (or create one if you haven't already – this is key!) and identify what you can leave at home next time, and which of your items would receive the most 'weight savings for the buck' if they were to be replaced. Your backpack itself, your tent, your sleeping bag, and your sleeping pad are usually the best places to start.
May your burdens be light and may your feet roam freely!