It doesn't matter if you're in the comfort of your home or 20 miles deep into the forest – that dirty villain Mr. Plaque never rests and those pearly whites of yours need to be brushed. At home I prefer a nice electric toothbrush, but when I'm on the trail I prefer things to be as lightweight and as simple as possible.

There are a few options for brushing your teeth while backpacking.

You could buy a travel toothbrush and a travel sized tube of toothpaste and call it good, or you could even buy a good ol' regular plastic toothbrush and show your friends how hardcore you are by cutting off most of the handle. That's a decent option, but I feel that there's an even better way to go that doesn't involve sawing handles and is lighter too.

Allow me to present..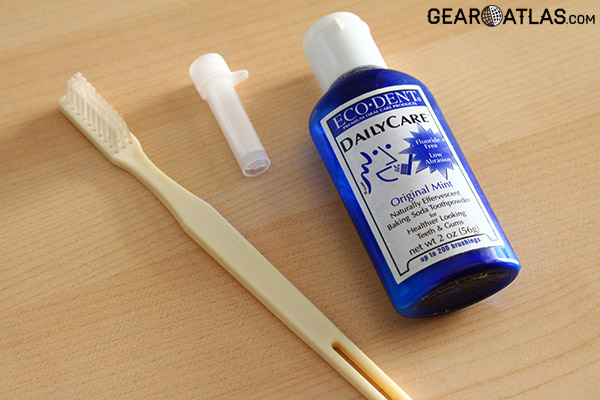 What's that you say!? This is what I believe to be the ideal toothbrush and "toothpaste" combo for brushing while backpacking. The toothbrush weighs a mere 0.18 oz (5.1 grams) and has a nice long handle so that you don't have to get your hand all up in your mouth (ick!). At the time of this writing you can find this toothbrush on eBay by searching for "Toothbrush for Camping"

You'll probably have to buy a minimum lot of 10 of these toothbrushes, but at only $0.70 per brush it's not a bad idea to keep some extras on hand anyways.

You might be asking yourself, "okay and where's the toothpaste?" I'd like to introduce you to my good friend "tooth powder". Tooth powder is cleaner (no goopy mess), lighter and easier to store than toothpaste. It's primary ingredient is baking soda which is what your great grandpa most likely brushed his choppers with. Some have suggested that tooth powder is even better for your teeth than regular pastes because it's said to be less abrasive and won't leave a film like residue behind. Now I'm no dentist, but I can say with confidence that I much prefer using tooth powder over regular toothpaste regardless of whether I'm at home or on the trail. I prefer the Eco-Dent DailyCare brand in Original Mint Flavor. You can find this product at many health food stores and at online retailers like Amazon.com and Vitacost.com (if you're new to Vitacost, you can click this referral link to receive a $10 credit on your first purchase of $30 or more!)

You could package the toothpowder in a small plastic baggie, or you could seek out a small 2ml plastic vial like I did. It has a screw on cap (which is attached to the vial itself) and weighs a scant 0.1 oz when empty and just under 0.2 oz when filled to capacity with toothpowder, which is enough for about 6 brushings. I found the plastic vial on eBay by searching for "2ml plastic vial" and like the toothbrush, you may have to order at least a handful of vials in bulk.

The total combined weight for the ultralight toothbrush and the plastic vial filled with enough toothpowder for 6 brushings is just 0.3 oz! A regular plastic toothbrush and a half empty tube of travel sized toothpaste weigh 1.3 oz. Some people may laugh at the thought of saving one "measly" ounce, but it really does all add up and it doesn't make sense to invest a good chunk of change into purchasing the lightest gear, only to neglect the weight that can be saved in areas like brushing your teeth.

So go ahead and show those pearly whites off with a smile! You just saved a ounce from your pack weight for just a few bucks. Where else are you going to get that kind of return on investment when it comes to the weight of your gear?